Facilities

Burlington Table Tennis Club has 5 tables to play. Our volunteers set up tables before open time and at closing time. A Players must bring their own rackets and balls to play.
Due to the limited number of tables and in order to allow everyone a chance to play, we enforce a 20 minutes play rule per table. In addition, a maximum of 17 players will be accepted at the same time on the floor.
Location and Operation Hours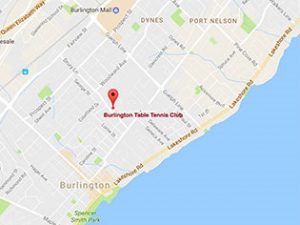 18:50 PM to 21:50 PM
Every Friday from September to May. Exceptions may occur.
Burlington Central Arena
519 Drury Lane
Burlington, ON Canada L7R 2X3
Entrance Fee

Entrance fee is $15 (currently cash only)
RULES:
Maximum of 17 players at any given time
Players must register via the online reservation system (each week)
Club opens at 18:45 with play commencing at 18:50
If you need change your reservation after signing up, you can follow the same link to unregister
We ask you change your registration ASAP to give other players a chance, if you cannot attend
Reservation Sheet
Weekly Sign-up Sheet:
We have now introduced a player reservation system.
If you would like to reserve your spot for the upcoming week:

Contact Us