Facilities

Burlington Table Tennis Club has 5 tables to play. Our volunteers set up tables before open time and at closing time. A Players must bring their own rackets and balls to play.
Due to the limited number of tables and in order to allow everyone a chance to play, we enforce a 15 minutes play rule per table. In addition, a maximum of 17 players will be accepted at the same time on the floor.

Location and Operation Hours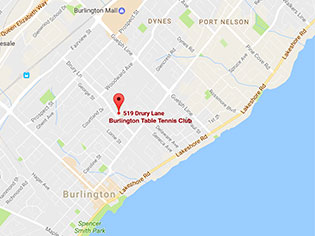 Starting on January 6th
Auditorium in the Central Recreation Center
519 Drury Lane
Burlington, Ontario, Canada L7R 2X3
7 PM to 10 PM
Every Friday January to June 2017
Entrance Fee

Entrance fee is $8 and we accept all walk ins on a first come, first serve basis starting January 6th 2017.
Contact Us